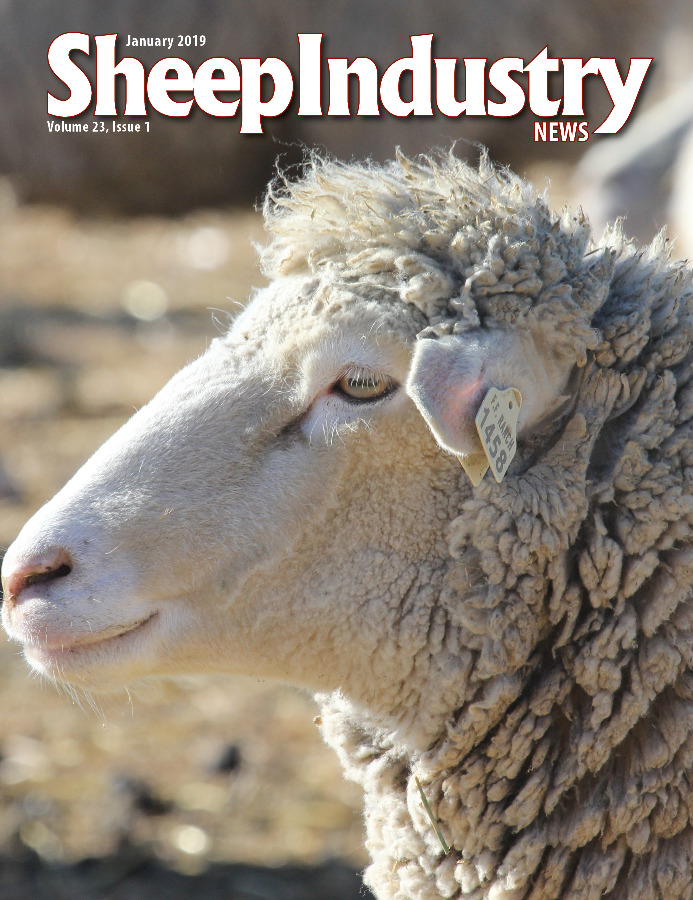 The 2019 Wool Season Begins Today
JULIE STEPANEK SHIFLETT, PH.D.
Juniper Economic Consulting
The Australian Wool Exchange Eastern Market Indicator wool price average saw 1,860 Australian cents per kg clean on Nov. 30; 1,360 U.S. cents per kg clean, or $6.17 per lb. clean.
In the course of 12 weeks since mid-August, the EMI tumbled 16 percent to early November, then rebounded 5 percent by the month's end. The 2018 fall slump was notable because it was the longest lasting downturn in a market that has been on an upward trajectory for the better part of the last six years.   
Although the market dipped in late 2018, wool remained strong with November's average 7-percent higher year-on-year.
What does the late-2018 slump mean for wool prices in 2019? Market fundamentals give us clues: Demand signals are strong – supporting prices; and global supplies will remain tight, also supporting prices.
In spite of the exchange rate moving against Australian wool prices in November, the EMI in U.S. dollars held fairly strong, indicating strong underlying demand (AWI, Wool Market Report, 11/30/18).
Furthermore, at November Australian auction sales all wool had value, even lower-quality wools received a price lift as Chinese manufacturers showed optimism regarding winter sales in the United States, Europe and Japan.
"The lower-priced wools have all soaked up strong gains, usually indicative of an overall recovering and stabilization of the market," (AWI, Wool Market Report, 11/30/18).
Given trends in the Australian futures market, wool analysts believe that Australian wool will likely stay high – at its average for the past three years – rather than retreat to its lower, 10-year average (AWI, Wool Market Report, 11/30/18).
On the supply side, the Australian Wool Production Forecasting Committee updated its forecast for the 2018-19 season to 305 million kgs greasy, down 11 percent year-on-year. November's wool on offer was already low, 18 percent lower year-on-year, and some reports put early 2019 Australian wool down 20 percent from a year ago. If Australian wool demand outpaces supply, prices will be under pressure, which will help support American wool prices this spring.
However, there were signs of resistance at the historically high prices posted in 2018. Buyers and processors were cautiously optimistic. They can absorb some price increases as in 2018, but how will consumers react when cost increases are passed on in higher apparel prices?
There will likely be some price corrections in coming months for raw wool; however, underlying retail demand remains strong. Apparel manufacturers will test whether they can pass lower-cost blends onto consumers, or, do consumers demand 100 percent wool? If consumers believe there is no good substitute for wool, then economic theory tells us that consumers might be insensitive to price increases. 
Trade War Eases (For now?)
Of paramount concern for the American wool industry is already high tariffs on wool exports to China, and the threatened 25-percent tariff for January 2019. However, relief may be in sight. At the G-20 Summit in Argentina in early December, President Donald Trump called for a 90-day truce in the escalating trade war between the United States and China.
China is the most important market for American wool. In 2017-18, 49 percent of the American wool clip was exported to China, accounting for 65 percent of the total wool export value.
The industry is already preparing for increased Chinese tariffs this spring by looking for alternative export markets. Mexico was the second largest American wool export destination, largely due to a 97-percent increase by volume in scoured wool to Mexico. In total, Mexico imported
1.2 million lbs. of clean American wool totaling $2 million. This amounts to 12 percent of total United States exports.
India is a logical target for expanded American raw wool exports, as it has an established early-stage processor sector. Other possible markets include eastern and western Europe, Egypt (for combing and carding wools) and Mexico (for scoured wool).
Wool Exports Rise; Hides Down
Total American wool exports by volume increased 19 percent to 10.3 million lbs. clean in 2017-18, an increase from 8.6 million lbs. year-on-year. By value, total exports increased 7 percent to $26.4 million. Wool yarn and fabric exports – termed WOFAB – totaled 1.1 million kgs (2.43 million lbs.) in 2017-18, down 11 percent by volume, but increased in unit value. The season total was down only one-half of a percent to $22.7 million.
American pelt exports were down 13 percent in 2017-18 to 900,211 pieces. Export value was down 14 percent to $13 million. The United States pelt industry relies heavily upon the export market, with 70 to 90 percent of pelts exported to China. Unshorn supreme pelts averaged $1.88 per piece last November, losing 72 percent in value during the course of 2018. In contrast, leather exports and value was up. Leather exports totaled 49,950 square meters, up 249 percent while value was up 114 percent to $683,297.
According to Barry Savage, ASI international wool marketing consultant, one key factor in finding alternative pelt markets to China is that the manufacturing capacity in other key markets such as Turkey and Russia has significantly contracted in recent years as China dominated the market.
Growing Markets can Expand Demand
If wool tariffs increase this spring, then the industry will be well served to diversify its export markets, but also look at new and expanding domestic markets. Domestic wool retailers from the United States military, to hosiery, to active and outdoor wear, to next-to-skin garments, to wool sneakers all have growth potential.
The United States military currently accounts for about 16 percent of the American wool clip, and plans are in the works to expand wool purchases. On Veteran's Day, the U.S. Army announced it will dress its service men and women in new, Army Greens.
According to ASI, "For the first time since World War II, every item in the Army's dress uniform will contain American wool – including in the shirt, jacket, slacks and socks."
ASI Military Consultant Mitch Driggers commented that while the Navy peacoat is being discontinued, news about Army uniforms and a new dress uniform, in particular, will likely lead to long-term increases in Department of Defense purchases of American wool.
Growers are encouraged to take a cold, snowy day and revisit their marketing plans for the spring. Perhaps the first step is to recognize the value of a growers' wool clip. Is it uniform in key characteristics such as micron, staple length and strength, fleece weight and crimp? Is the wool receiving top dollar for its value? What are your marketing options? The U.S. Department of Agriculture Agricultural Marketing Service reports imported Australian wool prices weekly, and that can be a good price guide.