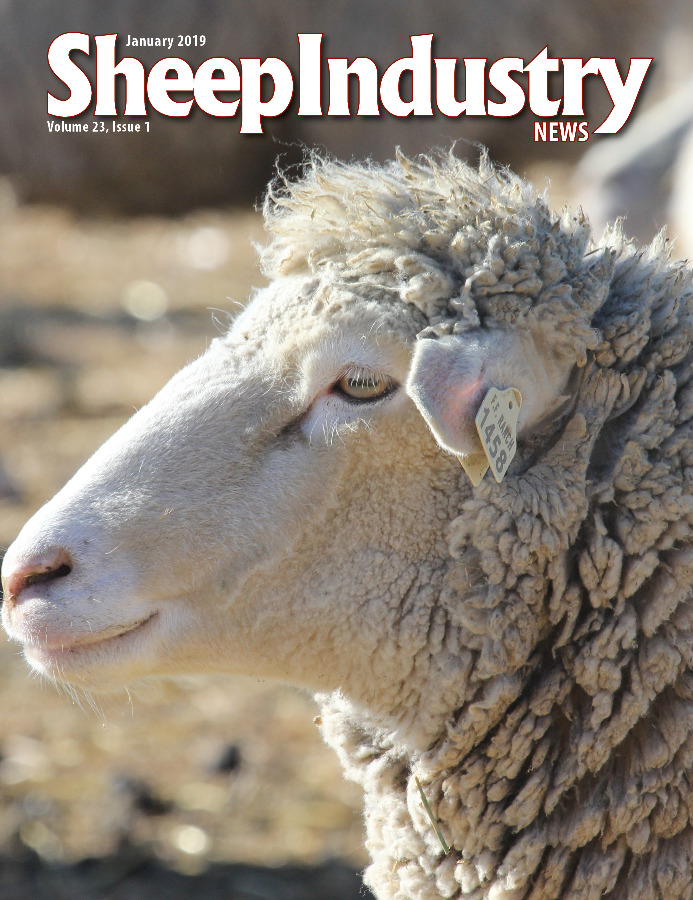 Washington Ranchers Go All In On Sheep
A cattle man's son, a sheep man's daughter and a "dowry" of 20 sheep and a goat. In a nutshell, that's how the Barnhart Ranch came to be the home of approximately 400 ewes.
"I was hoping to get the truck and horse trailer, because they were new," Ken Barnhart admits more than 40 years after marrying Susan and settling on his family's place just outside Ellensburg, Wash.
Ken is the fourth generation to make a home on the ranch, where cattle and sheep have both come and gone through the years. His great grandfather ran two bands of Merino sheep. The flock spent time at the ranch, as well as on public lands in the area.
"We didn't really know much about that until six or seven years ago," Ken says. "We started looking into it around the time my dad passed away. We were just getting into the fine wool sheep, so it was interesting to see that what goes around comes around."
Ken's grandfather had a few sheep, but phased them out around the time his own father passed away. Various cattle breeds followed as the next two generations mostly avoided the sheep industry.
"My dad wouldn't have had a sheep on this place if his life depended on it," Ken says with a laugh. "When I was a kid, there wasn't much talk about sheep around here. But sheep lend themselves to this place really well. We've got a semi-irrigated situation here, and a lot of range type ground with sage brush. It's probably been 20 years since we had a cow on the place. The sheep have been a good fit, and they dang sure make the place work."
Working an off-farm job for many years, Ken left most chores to Susan and the couple's five children – Tanya, J.R., Laura, Jimmy and Katie.
"It was easier for me to handle sheep," Susan recalls. "The kids all showed sheep at some point, and cattle and pigs."
Suffolks reigned supreme at the Barnhart Ranch during those years. But the wool had little value and the couple decided to make the switch to fine-wool breeds that would provide two legitimate income sources.
"We still had to shear the Suffolks," Susan says. "It just seemed like a waste of time because there was so little value for the wool. Two cash crops are better than one, so we made it our goal to build the flock with fine wool sheep. We still use some Suffolk rams, and we're pretty pleased with the way the lambs have looked."
Sheep took on a even more important role around the ranch when Ken was laid off of his town job a few years ago.
"That's when we decided to go all in on the sheep," Susan says. "We had almost 200 head here at that point, and then we went out and bought 250 more ewes. We jumped in with both feet. What we didn't realize is that we were jumping into the frying pan."
The couple purchased their flock additions from a bred ewe sale in Montana, and had more than a few surprises along the way.
"It was about 7 below the day we unloaded them," Susan says. "They started lambing a little earlier than we expected and we just weren't as prepared as we should have been. They were supposed to be bred to Rambouillets, Targhees and Suffolks. But we ended up with some very small-framed lambs. They weren't at all what we were expecting. It was like we'd bred miniature sheep. With a bunch of the lambs, we just had to stop and wonder, 'What did that one come from?'"
This will mark the second year that the couple has bred the ewes to their own rams, so there shouldn't be any unpleasant surprises when lambing time begins in late February. That's especially good news on the wool side of the operation.
In recent years, Susan has worked directly with wool mills, such as Pendleton, to bring the best price for the flock's wool clip.
"Susan's worked really hard to develop that market for our wool," Ken said. "It takes a lot of time, but we've gotten a better price for our wool because of it. Being able to sell it all at once and not have to handle it again works well for us."
However, Susan has had thoughts about some small changes in that area. She'd like to keep back five to 10 of the flock's nicest fleeces to sell individually. It's not a practical way to market the ranch's entire wool clip, but there's a definite market for the product.
Twice in recent years, the ranch played host to ASI-sponsored wool classing schools during shearing. Many of the students in attendance were hand spinners who expressed interest in purchasing small quantities of the flock's wool, which is a lucrative way to sell a few fleeces.
"But I've been too busy the last couple of years to worry about it much," Susan admits. "We have some smaller producers in the area who sell their fleeces that way and they can make a pretty good profit off each fleece. It just takes time, which we never seem to have enough of around here."
While all of the couple's five adult children help out when they can around the ranch, Katie is the only one who can contribute significant time on a regular basis. In need of additional labor, the Barnharts have hired a variety of kids attending Central Washington University with mixed results.
"We've been around it all of our lives, so we expect people to know more than they do," Ken says. "But a lot of these college kids have never been around animals other than a dog or a cat. Once you know what you're doing, it's not a difficult job. It's physical, but it isn't difficult. They just have to stick around long enough to get the routine down."
Ken knows all about that, after all, he had to learn a thing or two about sheep himself when the couple first got married.
"My father-in-law, Jim Fletcher, was a really good sheep man," Ken says. "He and I had a few good conversations about raising sheep, and I learned a lot from those conversations."