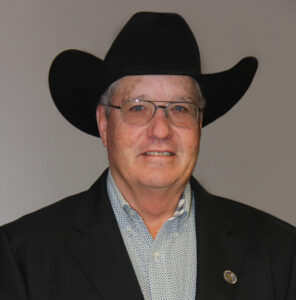 Benny Cox, ASI President
Hello to you all from a wintery Central Wyoming. Since mid-December mother nature has certainly been showing us who's the boss!
Most of the Western range flocks graze out on the prairie during the winter and are fed supplemental nutrition in the form of protein and energy to assure they meet all their nutritional requirements that the mature dried out forages are lacking. That typically involves feeding high-quality supplements to livestock at somewhere between 20 and 40 percent of their total intake on a daily basis, and then they fill up by grazing on the available forages.
Everyone cusses the Wyoming wind, but many times it is a blessing as it bares off ground so grazing can continue throughout the winter months. That hasn't been the case this winter as numerous heavy and wet snow events have more than covered up all the available forage. On top of the snowfall, our infamous wind has made it extremely difficult to even get to the livestock so they can be fed. As you can imagine, plowing your way miles and miles into the flocks and then out again in order to trail and/or truck each individual flock closer to the haystack has been an extremely difficult, time consuming and expensive job for many of our producers.
The equipment resources and man hours it takes to accomplish this is sometimes mind blowing. Tough decisions are made as to how we can have the most impact on getting the most livestock in with the least time spent. This sometimes means some bands will have to wait while efforts are made to bring others in. These are stressful and painful decisions that are not unique in a crisis. That said, they must be made, as there is much at stake.
This winter has been particularly challenging as the snow kept coming. We've had roughly another storm once a week as everyone tirelessly worked to save their livestock. As the efforts continued to bring livestock in closer, time was also required to find the additional feed resources that would need to be trucked in, in-order-to feed 100 percent of each animal's daily intake. As I am sure everyone can appreciate, this comes at a high additional cost to the producer.
Using our operation as an example, we have to date purchased 150 percent of our normal tonnage in supplemental feed. With the prices per ton of these feeds, we are looking at doubling our cost of feed – at the very least – compared to normal. Understand that in a normal year, feed costs are our second biggest budget expense. More purchases might have to be made depending on when the weather breaks and some grazing can begin again.
Wyoming Gov. Mark Gordon has sent in a request to the U.S. Department of Agriculture for a Secretarial Disaster Declaration. No word back from USDA as of this writing. This is not meant to be a whining rant, but rather an effort to show what agricultural produces must go through sometimes to keep their livestock and operations feeding and clothing the world. Many times, we do it with no consideration of the cost to do so.
I look forward to talking with you next month as the GREEN GRASS begins to make it's appearance on the Wyoming prairie. Until then, keep it on the sunny side.
As we start to close out the first quarter of the year, there have been some positive signals in the marketplace. Usually, we see a ramp up in slaughter numbers this time of the year in anticipation of the spring holidays before the summer lull, and this year is no exception as we are seeing higher slaughter numbers compared to a year ago.
The transmission of positive prices has been seen in various markets. Below are some highlights in the market.
Retail and Cutout Values
Retail featuring of lamb products is lower thus far compared to last year, but is expected to increase in the coming week as Easter nears. While featuring is down, consumption is holding steady as prices at the meat case are above last year's prices. Loin and shoulder blade chop prices are higher than a year ago.
Currently, the net lamb carcass cutout value has trended down from $473 per cwt. in January to $447 per cwt. in mid-March. While cutout values have remained approximately $145 per cwt. continuously below last year's value, the current cutout is still a solid $109 per cwt. higher than the previous five-year average.
The two primal cuts that are currently trending positively for the cutout are racks and shoulders, which are approximately $1,153.38 per cwt. and $354.73 per cwt., respectively, mid-way through March. Both of these prices are trending upward and are trading at the highest prices since the fall of 2022. This positive sign is partly driven by steady consumption, but also tighter supplies compared to historical slaughter numbers.
Slaughter Numbers and Prices
The positive sided lamb cutout values have been met with higher slaughter numbers compared to a year ago. January slaughter was 2,600 head above January 2022 at approximately 34,357 head. While slaughter was up compared to 2022, volume is still 2,700 below the previous five-year trend. So far this year, weekly slaughter numbers are about 8 percent higher as of mid-March. While numbers are up compared to last year, the average dressed weight per head is not. The dressed weight of the January slaughter total was 64 pounds, which is 2 pounds lower than last year and 6 pounds lower than the previous five-year average. Based on weekly data, weights have continued to average lower through mid-March.
As indicated in last month's article, production and supplies are expected to be comparable to last year, which also indicates the continuation of lower slaughter numbers compared to the historical trends. This could potentially help maintain the cutout value above the historical trends, as well.
Slaughter lamb prices have really started to rally the last few weeks. The first few weeks of March had a National negotiated live sale price average of $136.58 per cwt. This marks the first continuous weeks of prices above $135 per cwt. since last summer. Within these sales, the current range has a low of $123 per cwt. and a high of $215 per cwt. The Sioux Falls, S.D., market also has a positive trend in prices with slaughter lamb prices averaging $136.55 per cwt. the first few weeks of March – also the highest since summer of last year.
Feeder Lamb Prices
The positive trend in the slaughter lamb prices is also starting to occur in the feeder lamb prices. The weekly three-market average of Colorado, Texas and South Dakota feeder lamb prices began the year at $214 per cwt. and dropped to $172 per cwt. in January. Since then, the weekly prices have continued to increase each week, and had reached $185 per cwt. mid-way through March. While these prices are below last year's prices, the market is trending to be on par with the previous five-year average of $204 per cwt. during the same time of the year.
In other segments of the feeder market, there is also positivity. Haired sheep in the Columbia, Tenn., market are averaging $312 per cwt. and $290 per cwt. for 20 to 30 lb. and 30 to 40 lb. groups, respectively. In Billings, Mont., feeder lamb prices were $185.77 per cwt. (50 to 60 lbs.), $174.41 per cwt. (60 to 70 lbs.), and $167.07 per cwt. (70-80 lbs.).
While prices are starting to trend higher in the feeder lamb sector. One key driver as to how high they can get is feed prices. Depending on if you are a seller or buyer in the feeder market, feed costs will be something to watch as we work our way through the year.
Trade
In the latest trade data for January, while retail prices have been higher than a year ago, lamb imports are down in response to domestic demand. In January, lamb import volumes from Australia were 15 percent lower, and 6 percent lower from New Zealand. Overall, the United States imported 12 percent lower in volume compared to a year ago and the smallest monthly volume since February a year ago.
In mutton trade, the United States was also down 23 percent in import volume in January. The lion's share of the decrease came by way of Australia at 28 percent lower in mutton import volume. With the United States market showing some signs of positivity and the larger Australia flock – as indicated by last month's article – the U.S. might start to import more from Australia as we work through the year.
Moving Forward
Each sector of the supply chain has shown signs of upward price movements. From a retail perspective, we are closing in on the higher expected seasonal demand, thus we can expect continuation of higher slaughter lamb prices. From a production perspective, if the drought breaks in the coming months, and if feed costs start to trend lower, prices could really start to ramp up in the feeder lamb markets.
The optimism on prices will be dependent upon strong continuous consumer demand and import volume.
BARRY SAVAGE
ASI Consultant
American wool production was approximately 22.2 million lbs. greasy weight – 11.54 million lbs. clean weight – in 2022. Just for general information, the estimated micron profile breakdown for the American wool clip as of December 2020 was: 23.5 micron and finer – 55 percent; 23.6 to 28.9 micron – 29 percent; 29 micron and coarser – 16 percent.
Since the exodus to offshore markets sourcing a significant portion of the U.S. textile industry – including the wool textile industry – in the 1980s and 90s, the sale or disposal of American wool since 2001 has basically been split between:
1. U.S. military wool consumption.
2. U.S. domestic industry wool consumption.
3. Wool exports.
4. Wool going into domestic storage, either in wool warehouses or on-farm.
The combination of one and two above has generally accounted for around 25 to 30 percent of the domestic wool clip annually. During that same period, exports have typically averaged between 55 and 60 percent of the annual clip. Estimated carryover stock levels for the period 2001 to 2014 varied between 2 and 4 million lbs. greasy weight.
During 2015 to 2019, export sales were very active and carryover stocks in the U.S. virtually disappeared. This all peaked in 2018 when the equivalent of 84.4 percent of the annual clip was exported – more than 70 percent of which was in greasy wool form – and China took 59 percent of all U.S. exports, which amounted to virtually half of America's annual wool production. Other export destinations included Mexico, Western Europe, Eastern Europe, India, Canada and Egypt.
Then came a series of events that changed the wool sales situation – particularly exports – significantly. Firstly, came the deterioration of trade relations between the United States and China that led to an exchange of penalty tariffs on a range of imports by both countries – including American wool to China. Secondly, came COVID and the Chinese "Zero Covid" policy which basically shut down whole sections of China and their productive capacity – including textile production areas. Needless to say, stocks of unsold wool in warehouses and on farms increased significantly. Carryover stocks from 2020 to 2021 were estimated at 10 to 12 million lbs. greasy weight. While there certainly has been a significant improvement in export levels since the lows of 2019 and 2020, the American wool industry still has a way to go to return to the high levels of 2017 and 2018. As export levels rebuild, the mix of our export destinations will change. While China will likely remain our largest client, they will not be as dominant as they have been in the past.
I have just returned from a trip to Australia and to India. Australia remains cautiously optimistic about a rebound in exports. They are also concerned about the historical dominance of China in their exports and are looking to countries such as India to assist in the rebalancing of their export mix. We must remember that our client base must be countries that have early-stage processing capacity (scouring, combing, carbonizing), not just spinning, weaving, knitting, etc. This limits our range of export market choices significantly and certainly India needs to be high on our priority list.
Interestingly, while I was there, it was clear that India's early-stage processing capacity is already just about fully utilized, and I was asked by at least two clients whether I knew anyone in the United States who would be interested in investing in a new wool combing facility in India. India has already benefited from the desire of many nations and regions (United States, Australia, Europe, South America among them) to reduce their reliance on China as their major import/export client.
To quote the AWEX Market Report from March 9, 2023, "Currency continues to play a large role in determining market movements." We must remember that our clients are largely pricing their products in U.S. dollars, so it is important to them to base their raw material costs accordingly. The market movement in the U.S. dollar is a better indication of real market movements and demand than is the movement in Australian dollars.
Looking at the Australian AWEX movements since the very heady high market levels of 2019, at 406 USc per lb. in early March, the market is still significantly below the 629 USc per lb. AWEX Eastern Market Indicator of April 2019 – down some 223 USc per lb. or 35 percent. However, we are at a much-improved market level compared to April 2020 when the AWEX EMI was at 362 USc per lb. The general consensus of the industry personnel I encountered on my recent trip was that of cautious optimism, especially for the better wool styles with less than 2 percent vegetable matter and good additional measurement results – strength particularly – that result in good early-stage processing performance. This was heavily reinforced by clients in India who basically were not interested at all in purchasing lower performing wools no matter what the discount.
Unfortunately, there is not much optimism for coarser wools used for carpets and rugs. There continues to be a low level of demand for these wools and little likelihood of any significant improvement in price levels for the short to medium term.
As a sheep producer, you most likely spend a lot of time thinking about what your sheep will be eating. But how much do you know about the things they shouldn't be eating? Not all forage is good for sheep.
Sheep are natural grazers, and a large percentage of the American sheep flock will spend at least part of the year grazing pastures and public lands. But researchers at the U.S. Department of Agriculture Agricultural Research Service Poisonous Plant Research Laboratory in Logan, Utah, want producers to be knowledgeable about plants that might cause the most problems.
"Do we have any magic bullets? No, but we can offer some advice and consult with producers about ways to manage their flocks in these situations," said Research Leader and Plant Physiologist Daniel Cook. "Timing of grazing is an important tool with some of these plants."
Losses to the livestock industry from poisonous plants in Western North America and across the world come in many forms. These include death losses from acute and chronic intoxication, reduced weight gains, reduced reproductive efficiency and animals which fail to thrive. Exposure to some toxic plants – such as locoweeds – might predispose animals to other health problems.
Further, exposure to poisonous plants might reduce the effectiveness of vaccines and other routine veterinary management practices, leading to subtle losses later in the production cycle. In expansive mountainous areas, dead or debilitated livestock attract and retain predators such as bears, complicating flock management and potentially increasing death losses.
Cook said poisonous plants pose less of a threat to livestock in the Eastern half of the United States because animals tend to run on improved pastures in those locations.
"Fescue can cause problems with sheep," he said. "There are toxic plants in that part of the country, but it's generally less of a problem."
The range livestock industry in the United States boomed after the Civil War as large numbers of cattle and sheep were trailed onto expansive Western rangelands. Soon thereafter, large losses of livestock from poisonous plants were reported as ranchers encountered unknown plants such as locoweeds and larkspurs, among others.
USDA first began studying poisonous plants in 1895 in the Western United States, and the first permanent Poisonous Plant Research Laboratory opened in 1955 on the campus of Utah State University. A modern lab was constructed in 2004 in Logan and serves as a "Poison Control Center" for plants and livestock.
"Learning to be aware of these plants is an important part of managing livestock around them," Cook said, adding that the lab is developing a smartphone app for producers to use out on the range. Until it's ready to go – hopefully in late 2023 – producers can rely on Bulletin No. 415, also known as Plants Poisonous to Livestock in the Western States. It's online at ARS.USDA.gov/ARSUserFiles/oc/np/
PoisonousPlants/PoisonousPlants.pdf.
Cook encourages producers to reach out to the lab with questions. Visit ARS.USDA.gov/pacific-west-area/logan-ut/poisonous-plant-research for contact information.
The bulletin lists three dozen plants of concern, ranging from acutely toxic to mildly toxic. Below are four such plants.
Death Camas
Found throughout the Western United States, Death camas is the common name of several species of plants that are poisonous to livestock.
Death camas is one of the first plants to begin growth in early spring. Without sufficient other forage, death camas may be heavily grazed and will cause severe losses. Spring snow storms might cover all forage except death camas, which can protrude through the snow and is available to the livestock.
Sheep are most likely to be affected by feeding on death camas. Occasionally, cattle and horses are poisoned.
Death camas contains toxic steroidal alkaloids that occur throughout the plant; plants are dangerous at all times. The bulb may be mistaken for those of the edible camas or quamash and can cause severe illness in humans.
Some species of death camas thrive on sandy soils; others grow on drier, rocky foothills. The more toxic species are seldom found above elevations of 8,000 feet. Death camas grows early in spring, matures, and enters dormancy during early summer when soil moisture declines. The leaves appear very early in the spring. In the foothills, death camas generally flowers in April and May. At higher elevations, the plant may flower in late June and July.
To avoid poisoning, delay turnout until adequate good forage is available. Do not introduce hungry sheep into heavy stands of death camas. Try to avoid feeding, bedding or trailing sheep through heavy stands.
False Hellebore (Veratrum)
False hellebore – veratrum, sometimes called wild corn and cow cabbage – is a range plant that causes severe poisoning in sheep. It also affects cattle and goats. If ewes, nanny goats and cows eat it during early pregnancy, false hellebore causes a cyclopian-type facial deformity in the offspring.
Sheep and goats readily eat the whole plant. Cattle may eat it if other forage is scarce. False hellebore is poisonous from the time it starts to grow until after it is killed by freezing, but toxicity decreases as plants mature. Roots are five to 10 times as poisonous as leaves or stems. The toxins in false hellebore are cyclopamine and other steroidal alkaloids.
False hellebore grows on moist, open meadows and hillsides at elevations of 6,000 to 11,000 feet. It emerges as soon as snow melts in the spring. Flowers appear in July and August, and the plant produces seeds in late August and September.
False hellebore poisoning may occur two to three hours after an animal eats the plant. Sheep might show slight or marked signs of poisoning after eating six to 12 ounces of green stems or leaves. If pregnant ewes eat false hellebore on the 14th day after breeding, the young may have congenital deformities of the head. There is a high incidence of embryonic loss if the plant is ingested between the 15th and 19th day of gestation.
Losses of newborn animals from deformities can be avoided by keeping animals away from false hellebore during early gestation. Ideally, a flock of sheep should not be grazed on veratrum for 60 days after the rams are turned in with the ewes.
Halogeton
Halogeton – an alien invasive annual plant of the Western states – frequently causes poisoning in sheep and cattle. Most losses occur when hungry animals are allowed to graze in heavy stands of halogeton.
Halogeton becomes more toxic as the growing season advances, reaching a peak of toxicity at maturity. Cattle and sheep readily graze dried halogeton; thus, losses occur during fall, winter and early spring.
Losses generally occur when these livestock become hungry – during trailing, after trucking or overgrazing.
Halogeton often grows along railroad beds, roads, sheep trails and in places where the soil has been disturbed. Dense stands are found on burned-over areas, overgrazed ranges, dry lakebeds and abandoned dry farms. It thrives in the saline soils of colder arid and semiarid regions of the Great Basin, especially where native plant cover is thin.
Sheep can tolerate large amounts of halogeton if they eat it slowly or with other forage. The tolerance of sheep doubles if they are preconditioned by grazing light stands or other plants containing low levels of oxalates.
First signs of halogeton poisoning occur two to six hours after an animal eats a fatal amount; death usually occurs in nine to 11 hours.
Locoweed
The plant gets its name from the Spanish word "loco" (crazy), which describes the abnormal behavior of poisoned animals. "Locoed" animals do not recover completely.
Calf, lamb and foal losses from abortion may be high. Skeletal birth defects are common; many lambs are lightweight at birth.
Locoweed is poisonous at all stages of growth. Plants are dangerous throughout the year – even when they have matured, dried and turned black. All plant parts are toxic.
Locoweed is commonly found on mountains, foothills and plains, and in semiarid desert regions. It starts growth in late fall, winter or early spring – depending on locality, species and moisture.
Locoweeds are relatively more palatable than other forage at certain seasons. On desert winter range, cattle and sheep graze dry senescent spotted locoweed in proportion to its availability. Once consumption of locoweed stops, swainsonine is rapidly cleared from the body.
The Maryland Sheep and Wool Festival will celebrate 50 years when it takes over the Howard County Fairgrounds in West Friendship, Md., on May 6-7, and attendees will want to make time to visit the 4-H Hall for a special exhibit of catalogs, posters, T-shirts and other memorabilia from the past five decades.
The first Sheep and Wool Crafts Festival was held in 1974 at the Carroll County Fairgrounds in Westminster, Md. Prior to the establishment of the festival, the only place that handspinners could buy fleeces was at the Maryland Sheep Breeders Association's annual wool pool, where this buying and selling tended to disrupt the regular business and was also not precisely legal since technically the buying company had contracted to buy all the wool brought into the pool.
"Pray for glorious springtime weather and a let-up in the gas shortage for Friday, April 26, and Saturday, April 27, 1974. These are the days that the Maryland Sheep Breeders have reserved the Carroll County Fairgrounds for an all new project — a Sheep and Wool Crafts Festival," read an announcement for the event.
This first festival included a highly successful wool sale. It was reported that "mobs of hand spinners" from six different states snapped up the fleeces. Demonstrations of spinning and weaving, wool craft sales, a Lamb & Wool Queen Contest, a food booth selling lamb barbecue, a freezer lamb raffle, live sheep exhibits, shearing demonstrations, working sheepdog demonstrations, a ladies' lead contest and a decorated lamb class were all part of the festivities. Attendance was estimated to be around 1,500 people.
Through the years, more events were added. Sheep shows debuted in 1979. By 1980, the festival had outgrown the Carroll County Fairgrounds and was moved to its present location at the Howard County Fairgrounds. There were a whopping 25 craft booths at that time. Now there are close to 275 vendor booths, attendance has increased more than tenfold and the festival is widely viewed as one of the premier festivals of its kind in the nation.
The 2023 show will include 600-plus sheep and more than 40 workshops covering a wide range of fiber arts and other sheep-related topics. But the highlight for many – especially in the sheep industry – is the Fleece Show and Sale. Fleeces in the show will be judged on Friday afternoon. The sale will begin Saturday morning and run through Sunday afternoon.
Special events to commemorate the 50th anniversary will include a ribbon cutting on Saturday at 8:30 a.m. at the main gate and an opening ceremony at 10 a.m. on Saturday at the rear of the Main Exhibition Annex. Admission to the festival this year is $10 per day for adults 18 and over. Anyone under 18 will be admitted free. Tickets and catalogs for the 2023 festival are now on sale at MSWF2023.eventbrite.com.
With the lamb market crashing in the summer of 2022, Whit Stewart and his colleagues at the University of Wyoming headed to the Wyoming Wool Growers Association meeting to announce the newly established Wyoming Wool Initiative.
Based on previous success with a blanket program that had been overwhelmingly supported by the state's sheep producers, organizers put together a new idea to develop a Lamb-a-Year program and were looking for support once again from those same producers.
"We were really hesitant to roll it out last summer," said Stewart. "We talked about waiting a year, but what's so remarkable about the producers we work with is that they were still willing to donate those lambs. We let the producers know that there was no obligation, but it still came together. The hardest part wasn't getting people to sign up and donate lambs, it was just coordinating the logistics. I spent a couple of Saturdays driving around in a truck and trailer picking up lambs."
The key to the initiative's early success is simple. Educators, students, producers and the industry have all been willing to collaborate on the project with the hope of generating a beneficial path for all involved. Educators gain new resources to teach their students, who in turn generate research and data to assist producers. Those same students will then be better prepared to take roles in the industry – whether it's as producers, in lamb processing, wool manufacturing or continued research. Support from the university – specifically College of Agriculture, Life Sciences and Natural Resources Dean Barbara Rasco and Associate Dean Eric Webster – also played a crucial role in the program's early success.
As an associate professor and sheep extension specialist, it's no accident that Stewart helped develop such a program. His role at the university is split evenly between teaching, research, and extension duties.
"So, we try to integrate all aspects of our program so that they're synergistic and work together, because there's just not enough time and resources otherwise," Stewart said.
"It's the students who really drive these programs on campus and make the research work, and that prepares them to go out into the industry and get involved on a professional level."
The word "collaboration" comes up time and again in conversations about the program, which has collaborated with ASI, the Wyoming Wool Growers Association, Superior Farms, Mountain Meadow Wool and the U.S. Department of Agriculture's Agricultural Research Service in addition to countless producers throughout the state.
Blanket Beginnings
"About two years ago, Whit had the idea to shear the university's sheep, make some wool blankets with it and hope we earned enough for some kind of programming," said his wife, Lindsay Conley-Stewart, who has a fine arts degree from Wyoming and has designed each of the blankets sold through the program. "We made 300 blankets, so I came on in support to facilitate all of the logistics and marketing efforts. It ended up being wildly successful and that opened our eyes that we had this way to garner resources for various needs that weren't being met in the sheep program. And that's what became the Wyoming Wool Initiative. The blanket project is still a part of it, but it's just a small piece of a much bigger program."
Naturally attached to the blankets she designed and somewhat fond of the man behind the project, Conley-Stewart soon signed on for role of project coordinator. In addition to her position with the initiative, she coordinates social media and marketing efforts for the College of Agriculture.
"It's kind of nice that all the nights I spent away from home in our 15 years of marriage, now she sees our industry and gets to be a part of it," Stewart said. "I guess I could be accused of being the idea guy, but she's the closer. If it wasn't for her, we probably would have designed an ugly blanket, sold just a few and quit after the first year. She'll mockup four or five different designs and people around the university will vote on them. That visual and storytelling element that she brings is why the blankets have looked as good as they have."
Success with the blankets paved the way for other ideas to take root.
Lamb-A-YEar
Based on popular steer-a-year programs, the Lamb-A-Year concept asked sheep producers to donate lambs to the university. Students then fed and worked the lambs as part of a newly created class, earning school credit while getting hands-on experience in rearing a flock.
The first group of the approximately 155 donated lambs went to Superior Farms' plant in Denver earlier this year. But they didn't go alone. A team of graduate students led by Dr. Cody Gifford – an assistant professor in meat science – was there to collect carcass data on each individual lamb.
"This program demonstrates the importance of collecting phenotypic data to the contributing producers and students alike," said Superior Farms Director of Producer Resources Karissa Isaacs. "Collecting production data is just as important as the lamb performance or carcass data being collected to help with on-farm management and breeding decisions for future success of a sheep operation. Superior Farms looks forward to seeing results from the University of Wyoming for year one and to continued collaboration for the benefit of the lamb industry."
Producers benefit from receiving a package of information on each lamb, including growth performance data, loin eye photos and final carcass data.
"We worked hard to implement some alternative management with these lambs," Stewart said. "We backgrounded the lambs and tried to grow them really cost effectively at a slow rate of gain to get closer to the Easter market. We'll have two groups that were harvested about a month and a half apart. I hope the producers are happy with the information they get back. In Wyoming, lambs get sold and the producers don't always know how well they do in the feeding phase or when they reach the harvest phase. We feel like we were able to give them a lot of information to make some more well-informed decisions down the road."
All totaled, 26 producers donated lambs and three gave cash donations to support the program. NexGen Feed Solutions also donated in the form of 10,000 lbs. worth of feed to support the program.
"I had one producer call me and say, 'Lindsay, the Wyoming Wool Initiative needs to be a generational program. It can't be something that is a flash in the pan. Programs like this will help the industry thrive instead of just survive,'" Conley-Stewart said. "And that was really touching to me about the work we're doing and the importance of it."
While 2022 was a difficult year for the lamb market, sometimes that's the perfect time to get producers to try something different. When prices are high, there's little incentive to take a step in a different direction.
"We're a bit heavy on Merino now, so I wanted to see how they stacked up as a baseline to what we've done in the past," said Ivan Laird, who raises a small flock of Merino-Rambouillet crosses in Lander, Wyo. "I wanted to build up the wool, but not hurt the carcass cutout. But I also think its important to give back to these students, and that's why I did it. It's a great opportunity to put some animals out there for the students to work with. We lost so much when we didn't have a sheep extension specialist for several years, so it's nice to have someone bringing some enthusiasm to that role."
American Wool Assurance
Through the work of the Wyoming Wool Initiative, the university's flock became the first in the United States to reach Level III (Certified) status in ASI's American Wool Assurance Program in February 2022.
"ASI would like to congratulate the University of Wyoming for reaching Level III certification," said ASI Deputy Director Rita Samuelson at the time. "The association also owes the university a debt of gratitude for its assistance in finalizing the audit process that will lead to producers throughout the United States having the opportunity to reach Level II (Process Verified) and Level III (Certified)."
Graduate student Courtney Newman and Laramie Research and Extension Center Assistant Manager and Sheep Unit Manager Kalli Koepke deserve most of the credit for this accomplishment, according to the Stewarts.
"Courtney took those blankets and used them as a case study for traceability with Mountain Meadow Wool, so that we can really prove where certain products are made and where they come from," Stewart said. "With traceability, we feel like we can help producers get more for their wool. So, that's a grass roots example of the university and industry coming together that might generate more income for the producer. I'd love to ride off into the sunset one day knowing that producers are making more money because of the stuff we researched and implemented.
"We're in the second year of Courtney's project and now looking at when the product is changing hands several times in the manufacturing process, so that's a big push for us this year to get that accomplished."
Newman earned ASI's Sheep Heritage Foundation Scholarship in 2022 in part because of her work on traceability. She's looking to incorporate blockchain technology into wool processing as part of her studies and became just the latest of several students who have studied under Stewart to win the scholarship. Stewart was a recipient of the scholarship himself back in 2014.
Lasting Legacy
While producers might benefit financially from these programs, the long-term value is in the young professionals the university is sending out into all facets of the American sheep industry. The Wyoming Wool Initiative is nearing its first birthday, but the university has been turning out future leaders for far longer.
"We all have a shelf life on our careers," said Stewart, who's been at the University of Wyoming for approximately six years since leaving Montana State University. "The students are a legacy that lives on. I feel like that's something the industry has lacked at times was the ability to kick out new leaders, but we're really investing in that at the University of Wyoming. And through the Wyoming Wool Initiative, the producers and the industry are investing in them, as well."
While it would be impossible to highlight them all, Stewart points to Dallin Brady at Center of the Nation Wool, Alexis Brady at Julian Land and Livestock, Nicole McKibbon at Superior Farms, Jaelyn Whaley with South Dakota State University Extension and Dr. Chad Page at Utah State University as a few examples of the university's success in sending students into the industry.
"And we've got some really great students that are still here in the program," he added. "Our job isn't done until they are placed and working in the industry. We want to do what we can to help them finish their studies and their research and then kick them out into sheep industry careers."
Purina animal nutrition
Sheep. Goats. Cattle. Multispecies grazing can provide many advantages to producers looking to mitigate risk, diversify their income and get more from their pastures – even when forage availability is limited.
"Raising different species together is fairly common, and I've seen the practice grow in recent years," says Clay Elliott, Ph.D., and small ruminant nutritionist with Purina Animal Nutrition. "Multispecies grazing gives farmers and ranchers another avenue for income."
Whether you currently raise sheep, goats or cattle, adding another species to your operation could provide many benefits. Consider these factors when deciding if multispecies grazing is right for you.
Sustainable pasture management
"Sheep, goats and cattle are the perfect complementary species to graze together because they aren't always competing for the same forages," says Elliott. "Grazing any combination of these species can help you get more from your pastureland by turning 'waste' plants into meat, wool or milk."
Goats are browsers, favoring tree limbs and leaves over the high-quality, tender grass sheep and cattle prefer. Goats are also a great option for grazing land impacted by drought as they can forage on relatively little vegetation, giving you an additional income source without taking away the limited resources available for cattle or sheep.
Sheep can graze grass closer to the ground than cattle, so they can utilize forage cattle can't. One watch-out with sheep is to avoid overgrazing, which could impact the long-term productivity of your pastures. Create a pasture rotation plan and use water or supplemental nutrition sources to spread out grazing activity to help reduce the risk of overgrazing.
Efficient forage use isn't the only way multispecies grazing supports sustainable pasture management. Sheep and goats can help keep brush and invasive plants at bay, allowing for more grass growth for cattle and, in some cases, eliminating plants that could be toxic to cattle.
Copper supplementation
"One reason producers hesitate to implement multispecies grazing is goats and cattle have a significantly higher copper requirement than sheep, which are very copper sensitive," says Elliott. "That's the major difference between these three species – their copper tolerance."
One option to address the differing copper needs is to feed all species a sheep mineral that's low in copper and supplement cows and goats with a bolus product once or twice a year to meet their copper needs.
Soil testing can help determine how often cattle and goats need copper supplementation.
Another option is sequential grazing, or rotating species through pastures separately rather than co-grazing. This allows you to provide each species with a mineral tailored to its unique nutritional needs and avoid the added labor of administering a bolus product.
Diversify income opportunities
Multispecies grazing allows you to mitigate risk by opening up additional market opportunities and gaining more income per acre of pasture.
"A cow can only maintain herself and raise one calf every year," says Elliott. "You could add four to five ewes and their babies on that same acre of ground, giving you another revenue source."
The number of animals you can raise per acre depends on many factors, including pasture quality, sequential or co-grazing management, water access and your market availability and goals.
Keep in mind reproduction rates differ by species. Sheep and goats reproduce more frequently and have more offspring than cattle. Consider how quickly your sheep flock or goat herd will grow and plan your stocking density accordingly.
Input cost and management considerations
While there are many benefits to raising multiple species together, other expenses and management changes must be considered.
"Balance input costs and your projected return on investment to determine if multispecies grazing is the right choice for you," says Elliott. "For example, fencing upgrades to keep smaller species in and help deter predators is one of the larger up-front considerations in terms of labor and cost."
Another consideration is veterinary care. Ensure your local veterinarian is comfortable caring for whichever species you intend to raise. Evaluate your handling facilities to ensure they can accommodate large and small animals and that veterinary care and other management activities can be done safely and efficiently.
Partnership opportunities
When it comes to multispecies grazing, you don't have to go it alone. Some cattle, sheep and goat producers have found success working together.
"I've seen very successful operations where a cattle producer brings in sheep or goats from a different ranch for summer grazing," says Elliott. "The cattle rancher benefits from weed control and pasture management while the sheep or goat producer benefits from access to high-quality pasture for their animals. It's a win-win."
With some thoughtful considerations, multispecies grazing can be a great option to help mitigate risk, diversify your income and get more from your pastureland, whether you're currently raising sheep, goats or cattle.
Visit PurinaMills.com for support.
Walker Honored for Range Management
John Walker, Ph.D., Texas A&M AgriLife Extension Service range scientist, San Angelo, and professor in the Department of Rangeland, Wildlife and Fisheries Management, received the Sustained Lifetime Achievement Award – recognizing more than four decades of substantial contributions to rangeland science and management – at the International Society for Range Management conference held Feb. 12-16 in Boise, Idaho.
"The Society for Range Management has been very important in my career," Walker said. "Most of my mentors were members of the organization, held leadership positions and have received similar awards. It feels good to be recognized alongside the people I respect."
Walker's passion for sustainable, rangeland-based livestock production has resulted in research spanning the United States, Israel and South Africa. In addition to his work in forage-fed beef production and multi-paddock grazing, Walker is recognized as a pioneer in the field of targeted grazing, having served as editor and co-author of Targeted Grazing: A Natural Approach to Vegetation Management and Landscape Enhancement. Walker has also been a guiding force as the American Sheep Industry Association updates its Targeted Grazing Handbook.
He established the Society for Range Management's Targeted Grazing Committee – a cohort of practitioners, land managers, and research and extension professionals who educate and certify targeted grazing service providers.
Further, he was the first to develop near-infrared spectroscopy calibrations of feces to determine the vegetation composition of livestock diets. This optical imaging technology – which utilizes broad-spectrum light to illuminate different chemical compounds – is considered a reliable and cost-effective tool that can assist in guiding rangeland management decisions.
Walker's current research focuses on the selective breeding of goats to consume species of juniper, a woody plant known for its detrimental encroachment on rangelands. In addition to his primary research focus, Walker has published studies on livestock guardian dogs, rangeland hydrology, wool metrology and carbon cycling on rangelands.
Source: Texas A&M AgriLife
S.D. Plans Online Ewe Sale/Futurity Show
The South Dakota Sheep Growers Association announced recently that producers are invited to consign to the inaugural SDSGA Online Ewe Lamb Sale and Junior Futurity Show. The sale date is May 8 and the sale will be hosted on the Integrity Livestock Sales (IntegrityLivestockSales.com) online platform.
This sale is intended to encourage junior participation in the sheep industry and provide a conduit between SDSGA members who raise purebred sheep and tomorrow's sheep producers. The sale is sponsored by SDSGA and will be a multibreed ewe lamb sale featuring breeds raised by association members. Ewe lambs sold through this sale and purchased by a junior – 21 and under – are eligible for a Junior Futurity program that starts with purchase and showing of the ewe lamb in shows across the United States, then extends into the next year when the ewe is a yearling (Yearling Futurity), and eventually as a producing member of the junior's flock.
The association encourages SDSGA members who raise purebred registered sheep to participate and become involved with this unique program. Guidelines for the Online Sale and Ewe Lamb Futurity Show are outlined at SDSheepGrowers.org – subject to amendment as suggested and needed. This is an all-breed Junior Futurity Program and it is an all-breed sale.
You must be a SDSGA member to be eligible to consign to this sale. If you already conduct an online sale, participate in an online sale hosted by someone else or sell animals in a bonded live auction sale, then you can also nominate those ewe lambs for the SDSGA Junior Futurity Program by designating them as entered for this program, paying the nomination fee to SDSGA and complying with the rules. Sheep must be nominated prior to the sale.
Source: SDSGA
Everyone has a lot of different experiences during his or her life. These experiences may include both good or bad adventures. My life has had a lot of memorable moments. While it is always hard to choose the best one, joining ASI is the most wonderful experience to me so far. Since I joined ASI, I have learned a lot about the sheep industry.
I just completed my first non-convention trip, and I would love to share my journey with you all.
I traveled to North Carolina – the Southern state with friendly people, delicious food, and charming nature. During my trip, I had an opportunity to join the Shepherd's Boot Camp hosted by North Carolina Cooperative Extension on March 10 in Greensboro, N.C. This event had some online education with a series of pre-recorded webinars and review questions and wrapped up with an in-person section at the N.C. A&T State University Farm Pavilion in Greensboro. The Shepherd's Boot Camp started with some questions from what we had learned through the online education course. Dr. Carol Woodlief of the North Carolina Department of Agriculture and Consumer Services provided an overview of Scrapie regulations and the use of Scrapie tags
"For North Carolina, we have not had any positive scrapie animals for at least the last five years," Woodlief said.
The second part of the boot camp was traveling to NC A&T's Small Ruminant Unit. Coordinator Blake Thompson gave us a tour of the facility. They have a variety of sheep breeds for their research, including St. Croix. The unit added 15 Florida Cracker sheep last October.
During the boot camp, they divided us into small groups with three rounds of stations. In the first round, we learned how to use halters for leading and attaching the sheep or goats, tying leads and animal behavior.
The second round included a five-point check that focused on eyes, jaw, back, tail and nose. We also learned about the basics of FAMACHA, fecal sampling and animal husbandry. And in our last station, we learned how to perform vaccinations, ear tagging and hoof trimming.
This was all so interesting to me because I came to ASI with no livestock or agriculture background. That was one of the reasons I attended the Shepherd's Boot Camp, so that I could learn more about the animals and what it takes to raise them.
I also had an opportunity to meet Dr. Andrew Weaver, an assistant professor and small ruminant extension specialist at North Carolina State University. Weaver is co-chair of ASI's Genetic Stakeholders Committee. You can read more about him and his research in an upcoming issue of the Sheep Industry News.
I also met Stokes County Cooperative Extension Director Dr. Emily Cope, who organized the Shepherd's Boot Camp. She received her bachelor's and master's in animal science from North Carolina State University, and her Ph.D. in animal science with an emphasis in ruminant nutrition from the University of Tennessee. Her research and extension efforts have focused on energy utilization and metabolic efficiency in small ruminants. Additionally, some of her previous research efforts have focused on the interaction between energy balance and reproductive efficiency in sheep.
While I was in North Carolina, I took time to visit with two sheep producers, including Johnny Rogers and John Brasfield at their farms. You can read more about them in future issues of the magazine.
I know I still have a lot to learn about the American sheep industry, but I'm thankful to those who hosted me in North Carolina and helped me to learn a few of the basics about raising sheep.